Water cooled airconditioner
Till max 80% Water + 47% energy savings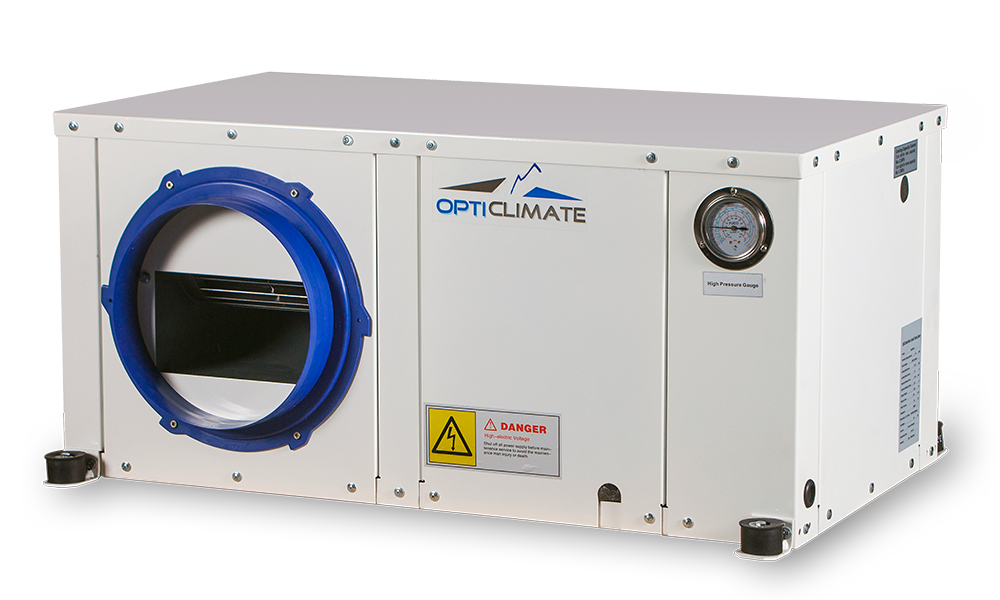 Water cooled airconditioner developed by OptiClimate
Do you need a water cooled airconditioner? Are you looking for a water cooled airconditioner or maybe you have not even heard about a water cooled airconditioner before? Let us tell you more about the number one water cooler airconditioner developed by OptiClimate! OptiClimate has developed a fully optimized and efficient climate control system themselves. Your interior temperature can be adjusted to perfection, an extreme period of cold or a long heatwave does not have any effect on it. All year round you can experience a perfect climate with an even temperature. We dare to state OptiClimate has the number one solution for a water cooled airconditioner, because because it has the unique property of being able to cool or heat, dehumidify, filter and circulate air at the same time. At the same time it is good to know that our water cooled airconditioner consumes as little power as possible and that it is the quietest system available. Also, the OptiClimate can be placed completely out of sight, which is a great plus for many locations.
WHY CHOOSE AN OPTICLIMATE?
The perfect climate control all year round
Cooling, heating, dehumidifying, circulating and filtering air in 1 device
light cell; when it is light, the cooling mode is automatically activated and when it is dark, the heating/dehumidification mode.
You only enter the day and night temperature and the OptiClimate does the rest, it couldn't be simpler.
The most silent system
Relatively low power consumption
Dehumidification possible during day and nightAdjustable cooling capacity
Built-in dust and carbon filter
Ceramic heating
Built-in temperature and water leakage protection
Clear extended remote control
SMS alarm in case of malfunctions possible
Fireproof!
Pre-Heat function
Slow Cooldown function
Alarm log function
dual-room operation; cool 2 rooms with 1 OptiClimate
Fan can be placed in 2 different positions with PRO3 (non-inverter)
Invisible to work away
THE EFFICIENT WATER-COOLED AIR CONDITIONING
OptiClimate's water cooled airconditioner can be placed in multiple places, especially on vessels of any kind and places where an exterior unit is prohibited. For example, the water cooled airconditioner is very appropriate for a a yacht or a houseboat. The OptiClimate water cooled airconditioner uses, by way of bypass, both freshwater and saltwater to manage the climate. When you are living or working in a historic building and it is not allowed to place an external unit, the water cooled airconditioner is perfectly designed for domestic use. It does not require such a unit.
MULTIPLE PLACES FOR WATER COOLED AIRCONDITIONER
Do you need a water cooled airconditioner for your residential, holiday or business premises? The heated water generated by the water-cooled airconditioner from OptiClimate can be reused to heat up a room, swimming pool or jacuzzi and is therefore, durable. It also recycles the water subsequently on a vessel. Even under the most extreme circumstances our climate control systems delivers an ideal living and working environment throughout the year. 
Easy use water cooled airconditioner 
It is very easy to use the water cooled airconditioner, the only thing you are required to do is to enter the preferred day and night temperature. The airconditioner does the rest, it could not be more simple! The system has a light sensor for automatic switching between the day and night program and dehumidifying during day, night or continuously is possible. The water cooled airconditioner is fireproof, so it is also safe to use. In the unlikely event a malfunction occurs, you will receive an SMS alert right away. You can choose the option for to add a built-in temperature and water leakage protection. Moisture can cause mold, rot, rust or unpleasant odors, and it can all lead to dust mites and allergens, therefore, the system has a built-in dust and carbon filter. The cooling options are adjustable and heating is done with a ceramic heating elements. We include a clear comprehensive remote control always, to choose the pre-heat function, the slow cool-down function and alarm log function. There is also a dual room function option, with which you cool two rooms with only one OptiClimate. The fan of the PRO3 can be placed in two different positions (not the Inverter). 
Opticlimate 10000 PRO3 SPLIT